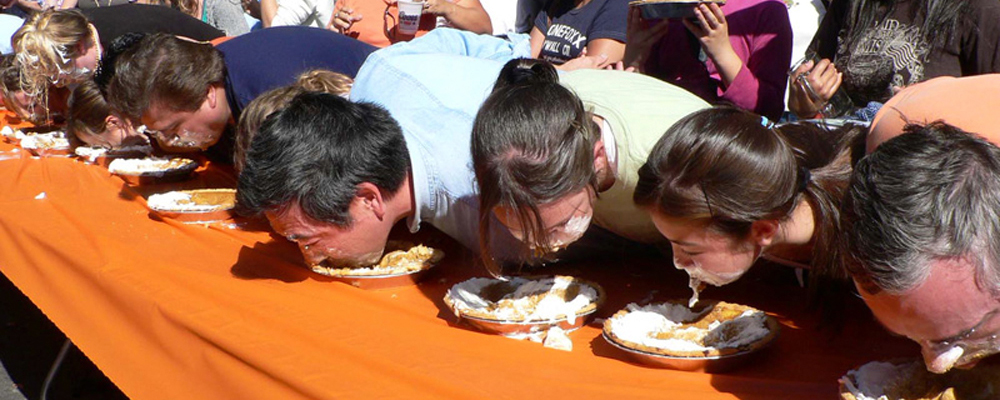 Even though it may not feel like it in many places, it is now mid-October and fall is in full swing! That being said, fall is the perfect time to throw a themed party or event. It is also almost the "season of giving" so we present to you a list of festive fall fundraising event ideas:
Themed House Party
Ideas include a costume party, football night, harvest dinner, haunted house, and so much more. All can feature a donation or competitions with an entrance fee. Some other great ideas for a fall themed party can be found on Pinterest.
Seasonal Contests
People love a competition, and will pay to be able to compete for a prize. Conduct a pumpkin decorating or carving competition, a photo contest, a bake-off, a pie eating contest, etc.
Themed Road Races
Halloween and Thanksgiving present the perfect themes for a fall road race .. and it doesn't have to be all about costumes. Get creative, like these top 10 Halloween runs.
Throw a Carnival
The size of your carnival can range greatly, from a simple backyard bobbing for apples, to bringing in actual carnival rides. No matter the size, this is a great idea for a family event.
Apple Picking
When we think of fall, our mind automatically goes to farms and apple picking, but this might be greatly influenced by our New England home. Anyways, it is a fun and different idea to get people outside and in nature!
Fall Pub Crawl
Technically the true Oktoberfest is over, but you can still have a Halloween or ugly sweater pub crawl… If your fundraising event includes beer, and some sort of fun theme, people will come!
Fashion Show
With the changing of seasons, brings the changing of fashions. No clue how to throw a fashion show? Here are some tips and advice.
Bake Sales
Everyone loves apple pie and anything with pumpkin! Capitalize on people's love of fall sweets to increase fundraising for your cause.
Outdoor Activities
Take advantage of the beautiful fall weather by being outdoors! We might suggest a foliage tour, hike, or maybe a run? Make it more like an "event" by charging for registration and including lunch, a goodie bag, and anything else you can manage.
With limited time and resources we believe any of these fall fundraiser ideas would work, especially with EventNut helping you sell tickets. Now. these are only a few ideas for fundraising events, but there are definitely more out there. Get creative and start the planning process today, because fall won't be around forever!