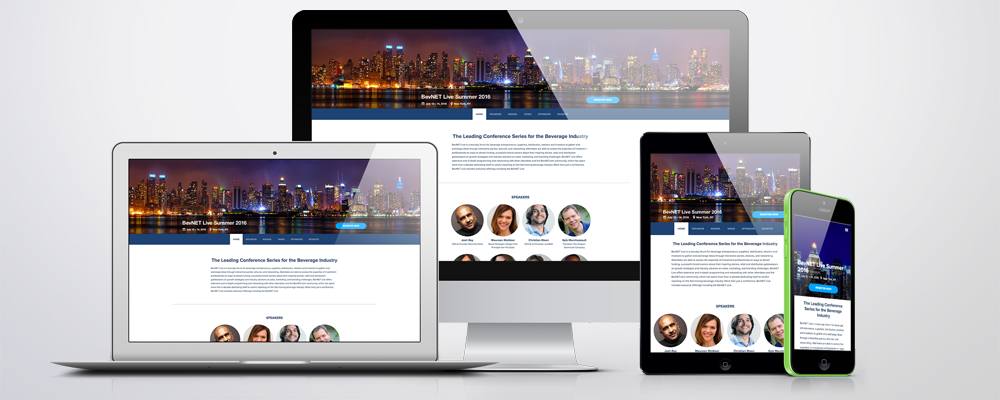 Event websites are a key component of your event. They are important platforms for conveying the event's value. They also keep attendees informed of updates. It is an intricate marketing tool for your marketing campaign. All traffic from advertisements and promotional efforts will drive traffic to your event website. Thus, you must include some important information and keep these keys in mind:
What to Include in Your Event Website:
Event Agenda
At the least, include a preliminary timeline. It is important to give potential attendees an idea of timing. As soon as there is more information, update this asap. The quicker this information is on your site, the sooner you can promote the content of your event. Make sure to update the agenda quickly and consistently, so it is always up-to-date. The closer to being finalized, the better, for marketing purposes.
Speaker Information
Include speakers on your event website. This is a major selling point of your conference or content-driven event. Include the speaker headshot, name, title, company, and a short bio. This should be up-to-date as well. People are landing on your site and perceives value based on the quality of your speakers. Highlight your keynote speakers.
Venue Information
The venue can also be influential in an attendee's decision-making process. Include pictures, the address, a map, link to directions, and surrounding accommodations. Alternative and unique venues, as well as a desirable location, are great selling points.
Registration Call-to-Action
Make sure you have a registration button visible throughout your event website. It should be bold, bright, and appear towards the top of every page. someone travels your site, they should be able to see this button. This will make registering accessible, which increases conversion rates.
Event Sponsor List
Including a sponsor list is mutually beneficial. Your sponsors add value to your event and provide credibility. But, it also gives the sponsors added exposure and a portal to their site. The format is at your discretion. Some website includes tiered sponsors or partners. Some include just logos. Some include short descriptions.
Video and/or Pictures of Past Events
People often glaze over large amounts of text. Replace this copy with videos and images. An image tells a thousand words, right? Also, what better way to sell your current events, than with a look into the past? Show attendees what they should expect.
Contact Form
Take the work out of just plugging contact information on your website. People are more prone to fill out a simple form, than having to go through the steps of creating an e-mail. Have simple contact forms embedded in your website on the appropriate For example, have a form specific to potential sponsorships on the sponsors page.
Design Keys to Remember:
Simple and Easy Navigation
Again, it is important to make navigation as simple as possible. A visitor will exit your site if they are frustrated and can't find the information they are looking for. Make everything clear and simple, as not to distract the visitor from registering.
Consistent Branding
This also impacts potential confusion. Users on a new site are at first skeptical and lack trust. You want them to trust your website and your event. If inconsistencies in branding, formatting, fonts then it will not look professional. This will also result in a lack of control over their experience. The event website should be consistent and simple. It should be a foundation you don't have to worry about deterring potential attendees
Responsive Layouts and Design
Many people are browsing on their mobile devices, thus the mobile experience must be flawless. The experience across all platforms should be nearly identical and fully responsive. This is also important to again add to your credibility and perception. Web sites that aren't responsive make companies appear less tech savvy and not modern.
High-Quality Event Content
This applies to the copy and information on your website. First of all, a high-quality program will sell itself. High-quality does not mean lengthy. It means effective, clear, wording, which is often the hardest to produce. It also means using bullets, correct formatting, pictures, and videos when appropriate.
Professional and Secure Event Ticket Page
We stated before initially will not trust your website. They will be skeptical, especially if they have never attended a past event. Thus, you must make them feel comfortable. Don't have anything that may draw red flags. This is especially important on the ticket page where the user has to submit payment. Make sure this page is secure, professional-looking, and has clearly stated ticket prices. There should be limited text, limited distraction, with a clean layout. Nothing should make them want to leave the checkout process.
Loads Fast
This would seem like a no-brainer, but it is often forgotten. Make sure your event website isn't overloaded or run down. If it forever to load, then the exit rates You only have a person's attention for a short amount of time in order to sell them your event. Don't blow it!