EventNut's goal is to help you create the best on-site check-in experience your events have ever had. Our on-site check-in tools add speed, efficiency, and big-event polish to any check-in process. Your attendees will make assessments about your event as soon as they arrive on site. Are you ready to make a great first impression at your next event?
Electronic Check-in for
Any

Event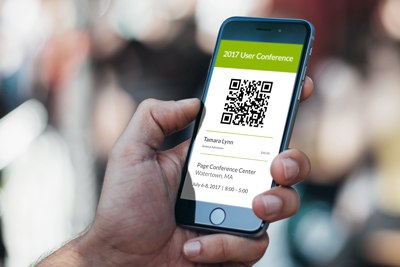 If you're still fumbling with paper and spreadsheets to get through your check-in process, you're taking a risk. Fumbling with anything wastes valuable time. Using paper and spreadsheets forces you to make attendees wait. Do you really want to make them wait, when you could be nailing down their excitement for the event ahead? And of course, when you're using hard documents, information often gets lost, which hurts your attendee first impression as well. Paper-based event check-in puts attendees' perceptions of their event experience at risk, and by definition, it happens before your event even gets started.
Of course, there's a solution to these problems: electronic check-in. No news there. But what may be news is this: electronic check-in isn't just for big-budget events with access to expensive software "platforms." EventNut's on-site check-in tools make big-budget polish available to any event, large or small. They're easy to install, simple to use, and they don't force you to make changes in other parts of your event that are already going well. And they're as feature-rich as anything you'll find in one of the complicated "platforms."
Use of our on-site check-in tools is free for all EventNut-published events. 
Event Check-in Tools
Single-Click Attendee Check-in
Everything about our check-in tools is based on the attendee database that's compiled as your registrations come in. Our "check-in desk" feature lies directly on top of your attendee database. You can access it from any browser. No matter how many computers you use to conduct check-in, each of them will have real-time access to your attendee database. The database is updated instantly when an attendee checks in, no matter how they check in, and no matter where they check in. Find your attendee in the system — our search tools make this easy — and check them instantly with a single click. It's super-quick, and your attendee data stays super-clean.
Custom Badge Printing
The badges you provide to attendees are incredibly important. A professionally designed, polished badge will make your event look professional and polished as well. A badge that prints quickly shows your attendees that you mean business about creating a great event experience. We make it easy to create great-looking custom badges, and to do it with no waiting for your attendees. It's a great way to nail a positive first impression at your event. Learn more about EventNut badge printing.
Integrated Mobile Check-in
To speed up your check-in process even more, get rid of the lines! EventNut allows you to check attendees in from any tablet or smartphone, using a special mobile version of our "check-in desk" feature. Just scan the QR code on your attendee's ticket and click a button to print his badge. You're good to go. Mobile check-in is great when there are more than a couple potential entrances to your event. Use mobile check in to check in attendees right as they arrive, without having to set up multiple check-in stations, and without tasking attendees with figuring out where they need to go.
VIP Arrival Alerts
All of your attendees are important, but usually, there are a few you'd like to make extra-sure get the VIP treatment when they arrive. EventNut's VIP alerts system makes it really easy to do. Designate an attendee as a VIP in your attendee database — it only takes a click — and the mobile number for the person you'd like to receive the alert. Maybe you'd like to alert your head of sales when a particularly valuable prospect arrives. EventNut makes it easy to maximize sales at your event.
Same-Day Ticket Sales
Our newest check-in feature is the one that might have the biggest impact on your bottom line. While our software is driven by a water-tight attendee database, you're not limited by requirements that attendees be added in advance. With our same-day ticket sales feature, you can process walk-up attendees easily, and collect their ticket payments using either a credit card or cash. Your attendee database will be updated automatically and instantly. Realize all the day-of revenue that's available, without limiting your ability to offer a high-quality event experience to your walk-up attendees.