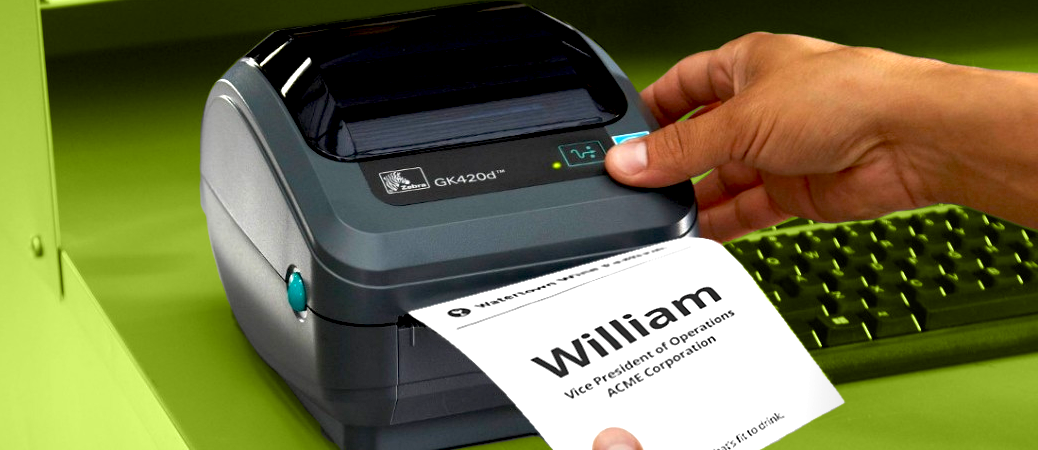 EventNut allows you to print attendee badges and name tags either on-site during check-in, or in advance of your event. Here's how to set up and print your badges.
Get Your Equipment in Order
EventNut's badge templates are designed to print using a dedicated desktop badge printer, paired with standard label stock, at various sizes. Please note: our badges can't be printed from a standard office printer. To learn why, and to explore options for dedicated badge printers and label stock, please see our page About Badge Printers. (FYI, if you need to buy one, dedicated badge printers aren't very expensive.)
| | |
| --- | --- |
| | Once your printer is in place, and before printing your badges, please make sure you've installed the relevant print drivers on the computer you'll be printing from. We recommend printing a test page from the computer's regular text editor, just to make sure your printer is set up properly. |
Start Your Custom Badge Design
You can start work on your badges as soon as you've finished customizing your attendee registration fields and have published your event. The first step is to select one of our badge layouts. Then, it's easy to customize your layout for your specific event. To get started, click the "Badge Design" link on the side navigation bar in the EventNut app.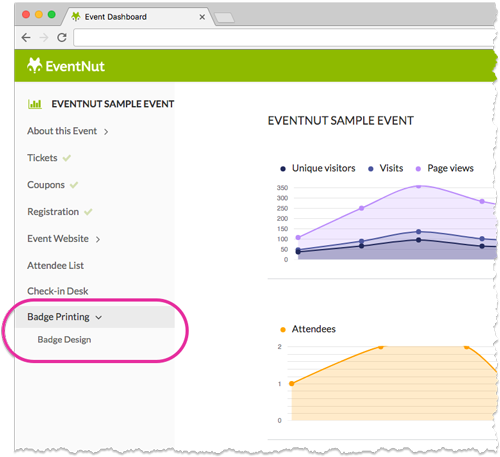 Choose Your Badge Size & Template
EventNut's customizable badge templates are available in these sizes: 4 x 2-1/8 inches, 4 x 3 inches, and 3 x 4 inches. More sizes and templates are on the way. Every EventNut badge template is designed to be printed on easily-available badge/label stock.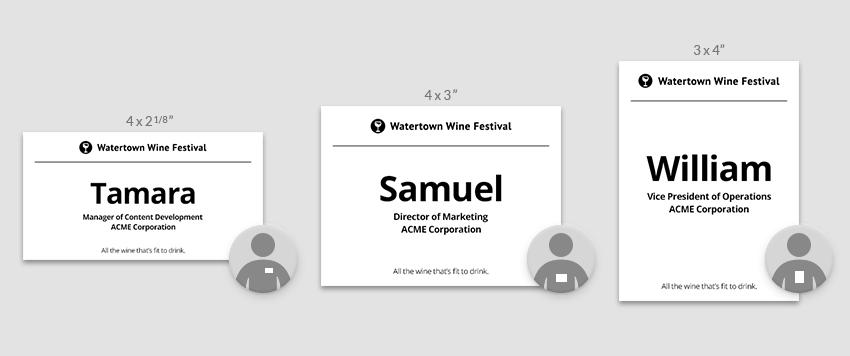 Customize Your Badge Content
Each EventNut badge template contains three sections you can customize: the header, the body, and the footer. Within the body section, there are three lines of text you can customize, with information like an attendee's name, job title, and company, to pick just one example. You can use the fields however you wish. Also, in the header, you can use an image instead of text.
For each line or section of your badge, you can enter specific text that will print on every badge, or you can set them up to merge data from your attendee database when they print. Use a merge field for anything that should appear differently on every badge: an attendee's name, for example. Merge fields can be selected for each line or section using a simple drop-down menu.
You can also customize the typeface, font weight, and text alignment for each part of your badge.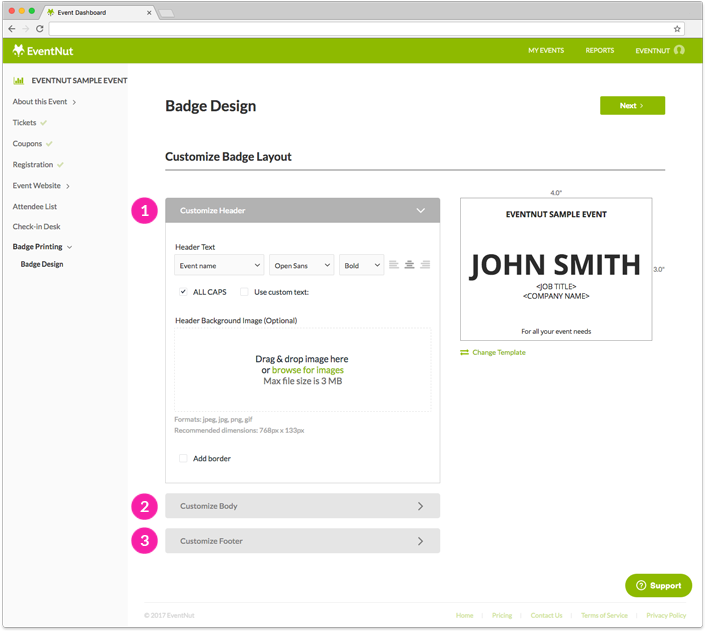 Print Test Badge & Adjust Margins
One thing we've learned in developing our badge printing functionality is that, as a mechanical tool, every printer is slightly different. Before you save your custom badge layout, it's a good idea to test-print a badge or two to make sure everything comes out like you expected on your printer. One common way that badge printers can vary is in how precisely they handle margins. If your margins look off when you print a test badge, you can make compensating adjustments here.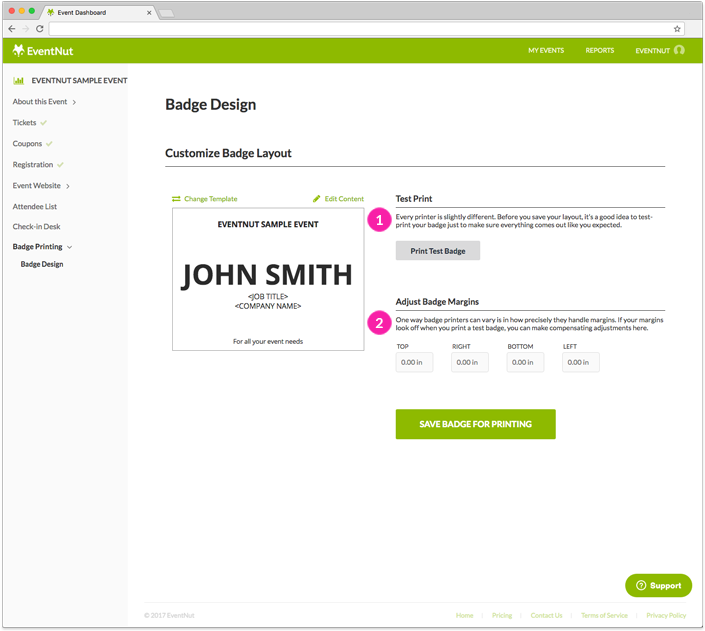 Check In Your Attendees & Print their Badges
On the day of your event, you can print your attendees' badges directly from your EventNut check-in desk. Make sure you've got the device you'll be printing from (i.e., your laptop) on-site, and with the proper drivers installed. Connect your device to your dedicated badge printer according to your printer's connectivity options (e.g., wi-fi, USB, ethernet, etc.)
Then, as attendees arrive and you're using EventNut to check them in, all you have to do to print their badges is click the small "print" icon that displays to the right of each attendee's record. Badges are printed individually from an easy-to-use print queue, which means no waiting for your attendees!