Our flexible event registration tools are included with every website you build using EventNut. The tools are free to use. That's true if you're selling tickets on your site, and equally true if your event is free to attend.
Simple, Custom Event Registration Tools
Use our event registration tools to collect whatever attendee data you like. Our online forms are completely customizable. The customization process is as simple as it gets. It's all drag-and-drop, just like everything else in our website builder.
You can create either text or drop-down menu registration fields. Make your fields required or optional. And for fields like email addresses and phone numbers, automatic data formatting is a useful plus for your attendees. Automatic data formatting also helps keep your data squeaky clean. That can save a lot of headaches in the long run.
Publish Your Registration Form Online
It's easy to publish your custom registration form with our free website builder. Place your form wherever you wish on your site. Label it whatever you like. If your tickets are free, you can call it "Register." If your tickets are paid, maybe "Tickets" makes more sense. It's up to you.
You can also place a short registration section on any page on your site, or even on all of them, if that's your thing. The same is true for your "Register Now" button. It will appear automatically in the header of every page on your site. And you can place more "Register Now" buttons anywhere else you like.
Communicate with Attendees
Behind the scenes, your registration page will automatically compile a real-time attendee database. Your attendee database will contain up-to-the-minute attendee profiles, all of them containing whatever information you requested on your custom registration form.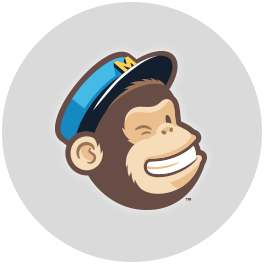 We've designed our attendee databases to integrate seamlessly with MailChimp. MailChimp is the business world's most popular campaign email platform. With our MailChimp integration, it's easy to stay in touch with your attendees. Use EventNut & MailChimp to schedule automated updates, reminders, and alerts.
If you're already a MailChimp user, one of the great things about EventNut is that there's no new email platform for you to learn. A lot of other registration apps have their own proprietary email system built into their tools. That means you have to learn a new campaign email platform from scratch, one that probably isn't nearly as feature-rich as MailChimp, the platform so many organizations are already used to using.
Keep it Social
You can also keep in touch with attendees using our simple social media tools. Create custom event feeds on all the major social platforms. Share event updates using Facebook, Twitter, LinkedIn, Instagram, YouTube, Pinterest, Google+, or Vimeo.
Maybe you want to see your event trending on Twitter as well. You can create custom Twitter hashtags for your event, as many as you like.
Every free EventNut account includes a management dashboard that gives you a real-time, all-in-one look at your event's social activity.
View Real-Time Registration Data
Your EventNut dashboard isn't only about staying on top of your social feeds. It also provides access to registration and ticket-sales data, to help you manage your event's success overall.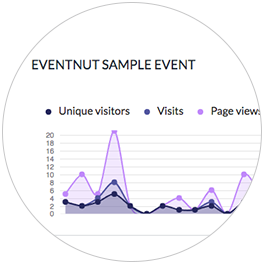 Every time you log in, you'll see a count of the website visitors you've attracted, the registrations you've processed, and the tickets you've sold. See in real time the revenue your event has generated to date. And for deeper dives into the data, we've made it easy to integrate your EventNut site with your existing Google Analytics account.
Our event registration tools are the centerpiece of every EventNut website, the results-driving "brain" behind your event's success.
Create Your Best Event Yet