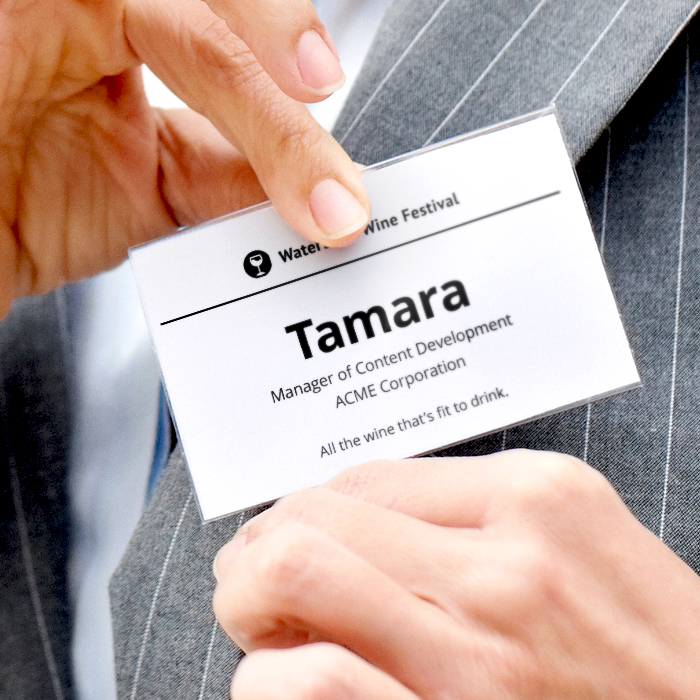 Speed Up Your Check-in Process with On-Site Badge Printing
EventNut makes on-site badge printing possible for any event. Use our badge printing tools to add consistency and accuracy to your attendee check-in process. Keep check-in moving quickly. Eliminate check-in hiccups. Make a better first impression on your attendees.
EventNut's on-site badge printing software is simple, fast, and a great fit for events of any size. It's free to use for all EventNut-published events.
Customizable Event Badge Templates
We've created a variety of customizable badge templates to use with our on-site badge printing software. Badge templates are available in a variety of shapes and sizes, and are fully customizable for your event's specific needs.  Learn more…

On-Site Badge Printing = Better Attendee Check-in.
EventNut's free on-site badge printing software makes faster, smoother check-in available for any event.
Powerful Event Software. No Learning Curve.
EventNut is about much more than just badge printing. We offer simple-but-powerful event software that's designed to elevate every part of your attendee check-in process.
EventNut's software and tools offer exactly the right event features, with minimal bloat. They're easy to use. They require almost no learning curve. And best of all, EventNut's check-in software is affordable enough for any event to start using it right away. (Actually, almost all of it is free. People who hold purse strings don't often quibble with free.)
Tickets / Registration
Attract attendees, sell tickets, collect the registration data you need. Start here with EventNut.
Event Websites
Use our easy website builder to create a website or standalone registration page for your event.
Check-In Software
Frictionless electronic check-in for any event. Create a faster, smoother check-in experience.
Get Started Now for FREE
Make your next event your best event. It's never too early to start.