Every free EventNut website comes with simple, flexible event ticketing and registration baked right in. If your event is free, you can use our ticketing and registration features for free as well. We only assess fees when you're actually selling your tickets to attendees.
EventNut is committed to keeping our ticketing fees as reasonable as possible. In fact, our event ticketing fees are the lowest you'll find anywhere.
About Our Event Ticketing Fees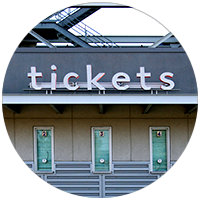 Here's how our ticketing fees work. For every ticket you sell through EventNut, we'll assess a fee of $1 + 1% of the price of the ticket. Remember, we only charge you for the tickets you sell. If your tickets are free, you won't owe us a penny. And if your tickets are expensive, we've still got your back, thanks to our $10 per-ticket cap on fees. Take a look around the web and compare our rates. You'll soon see, our ticketing fees are the lowest in the industry. (More questions? Check out the event ticketing FAQ below.)
Save Nearly 50% vs. Other Providers
Let's compare our fees to the industry average using a hypothetical event with 500 attendees and a ticket price of $100. As you can see below, this event's organizers would pay 43% less with EventNut! (And they'd get a better free event website to boot.)
Other Ticketing Companies
Tickets sold: 500
Typical per-ticket fee: $0.99
Ticketing total:$495
Ticket revenue (@ $100 each): $50,000
Typical service fee: 2.5%
Service fee total:$1,250
Total cost:$1,745
Others cost about $745 more.
Create Your Best Event Yet